Last week on Wednesday, it was 50 years since the promulgation of Sancrosanctum Concilium, the Dogmatic Constitution on the Sacred Liturgy from the Second Vatican Council. Somewhat apart and separated from this document, came the implementation of the Liturgical Reform which happened after Vatican II. Marty thought he'd share some celebratory visual aids with you, to remind you all of some of what this joyful moment (after the Council) has brought us.
ENJOY ! ! !
UPDATED:
Here is a very special homegrown example of the wonderful fruits of the Liturgical Reform given to us by the Council. This was emailed to me. It is a video of a Liturgical Dance, performed at an ordination up at the Auckland Cathedral. Behold and be amazed as the newly ordained priest is the main performer.
FESTIVAL PROCESSION FOR HOLY MASS
WEST COAST 'CALL TO ACTION' CLOSING LITURGY – LITURGICAL PUPPETS
LA EDUCATION CONFERENCE – CLOSING LITURGY
FOLLOWING ARE SOME PHOTOS OF THE WONDERFUL FRUITS:
A Church in Dresden, Germany, Beautiful Artistic Expression
And others…
Pope John Paul II's Liturgical MC, Piero Marini, is half-pictured on the right below. He was heavily involved in the post-Conciliar Liturgical Reform.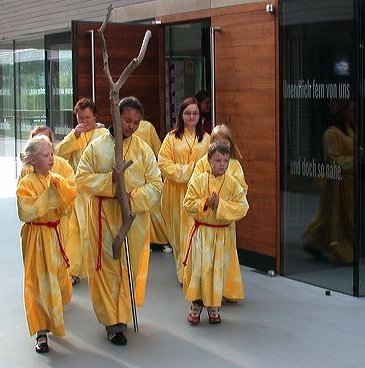 Thanks be to God, this archaic narrow-minded and medieval expression is what we left behind…
HAPPY ANNIVERSARY ! ! !
50 years since Sacrosantum Concilium
Is your liturgy like what Vatican II
PS: Marty is not suggesting that these images and videos are a full representation of the wonderful fruits which have come from the post-Conciliar Liturgical Reform. Marty simply wishes to alert people to these particular wonderful fruits, which are of course, a recovery of the pristine Liturgy of the Early Church, when people could create their own worship style. These have been occurring at different moments during the Church's history. It is good to see that we have recovered them and that people are benefiting from the Liturgical restoration and renewal which followed the Council. Since the Council, there have also been other liturgical expressions, which unfortunately have not been in the spirit of the Reform, and have held on to certain retrograde and rigid attitudes. Liturgies celebrated like those encouraged by Pope Benedict XVI fall into this category.